The mission of the Oral Health Program is to advance the general health and well-being of all Utahns by promoting oral health and preventing oral disease. The oral health program joined Primary Care and Rural Health (PCRH) in 2022, when the Utah Department of Health and the Utah Department of Human Services merged to become the Utah Department of Health and Human Services (DHHS). The Oral Health Program priorities for this year include updating the Utah Oral Health Strategy, and launching the Utah Oral Health Innovation Program. This program focuses on identifying dental care needs in the emergency rooms of 2 hospitals, Ashley Regional Medical Center and Uintah Basin Hospital. 
Stacey Swilling, DDS, is the State Dental Director, a graduate of the University of Tennessee Health Science Center College of Dentistry. An Arkansas native, Dr. Swilling has called Utah home since 2018. Prior to coming to DHHS in 2022, she had a variety of career experiences, including private practice ownership and a faculty position at the University of Utah School of Dentistry. Her passion for advocacy started as a member of the Arkansas State Dental Association New Dentist Committee, leading her to take on many active roles in all levels of organized dentistry, on local, state, and national levels.
Lauren Neufeld, RDH, BSDH, is the oral health educator for the State Oral Health Program. Lauren graduated Summa Cum Laude with a bachelor's degree in dental hygiene science from the Utah College of Dental Hygiene. Lauren was born and raised in Utah, and has spent much of her clinical career in public health settings working with vulnerable children and marginalized families. Since her start with DHHS in 2016, Lauren has led an educational intervention for adolescents. She also collaborates with the Office of Home Visiting programs, WIC (Women, Infants and Children), Early Head Start, and Head Start programs. She is a member of the Utah Tobacco Free Alliance, and Utah Dental Hygienist Association (UDHA).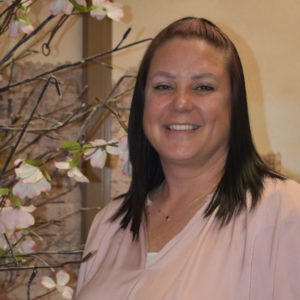 Kara Taylor, RDH, BSDH, joined the Oral Health Program in January 2023 as a health program coordinator and is currently leading an effort to increase patient use of a dental home in the Uintah Basin. Prior to that, she worked for the Disability and Health Program at DHHS, and at the Southwest Utah Public Health Department. Kara was born and raised in Minersville, a small town in Southwestern Utah. Kara graduated from Utah Valley University with a bachelor's degree in Dental Hygiene then worked in private practice for 12 ½ years prior to entering public health. Kara is passionate about making dental resources accessible to the residents of rural Utah.
"As the Utah State Dental Director, my first priority is to continually improve the oral healthcare of Utah's diverse populations year after year. I genuinely care about the well-being of both patients and providers, and it is crucial that we all witness and experience the tangible improvements in oral health together."

– Dr. Stacey Swilling